NEW! Fall Camps for 2020
Due to popular demand we are expanding our camp season into fall! Join us for a fun, energetic, and themed based camp with a limited time commitment and in a very safe and healthy environment. Parents are seeking our camps to keep their children engaged, around other children their age, and physically active while gaining the appreciation for the arts and learning dance from our qualified and caring faculty.
---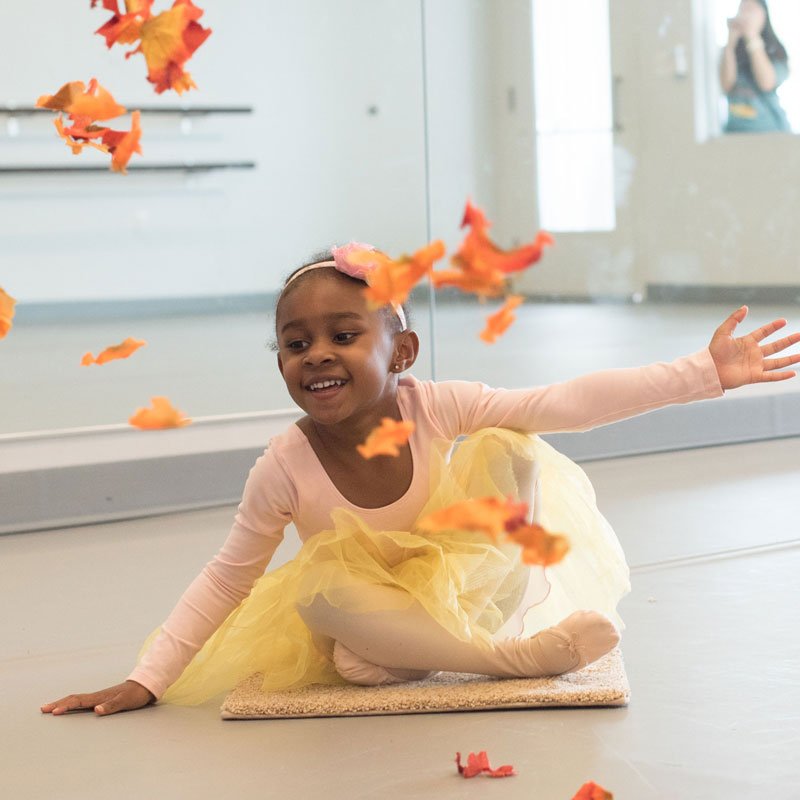 It's all about Fall Camp!
Ages 3-5 year olds
Thursdays 9:30-11:00am or 12:30-2:00pm
September 10th, 17th, 24th and October 1st
Cost $165
Join Miss Molly each Thursday morning or afternoon for our first It's all about fall camp! Children will start with a ballet class, will decorate their own fall tutus, crowns, and wands, and will listen to fall inspired stories. They will tip toe through fall leaves, jump over pumpkins, collect apples in their own little baskets, and on our last day perform for moms and dads a fall themed ballet dance dressed in their very own fall costumes.
Children will also learn tap! They will make their own scarecrow costumes and learn a tap routine to "If I only had a brain" from the beloved classic movie "The Wizard of Oz". Parents will sure to be singing along on our last performance day!!
Your 3, 4 or 5 year old will look forward to coming to their fall dance camp every Thursday for the month of September, meeting new friends, and getting to dance alongside Miss Molly.
---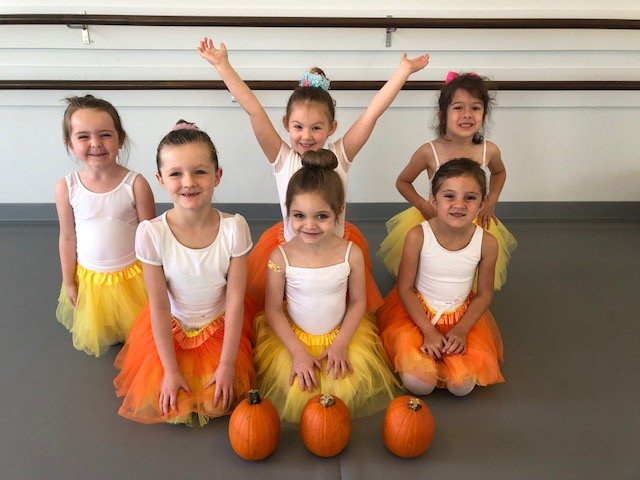 Gearing up for Halloween Camp
Ages 3.5-6 year olds
Thursdays 9:30-11:30am or 12:30-2:30pm
October 8th, 15th, 22nd, and 29th
Cost $185
Join Miss Molly in this fun Halloween inspired dance camp that will feature both a ballet and jazz class each day! Children will decorate their own Halloween tutus, crowns, and wands. They will learn ballet moves to Halloween inspired songs and will tip toe around little witch hats and pots, jump over pumpkins, and improvise as various Halloween characters.
Children will also learn jazz. They will make their own monster mash costumes and learn fun and hip moves to all the fun and funky Halloween songs! Camp will conclude with a Halloween inspired cup cake for our campers and a performance for our parents.
---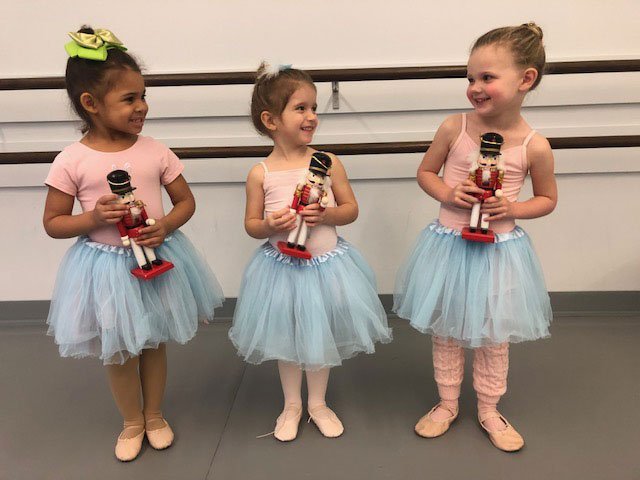 It's Nutcracker Time!!!
Ages 3-5 years old
Thursdays 9:30-11:00am
November 12th, 19th and December 3rd and 10th
Cost $165
Ages 4-6 year olds
Thursdays 12:30-2:30pm
November 12th, 19th, and December 3rd and 10th
Cost $185
Join Miss Molly as we celebrate our annual Nutcracker production and gear up for the holidays!!! Children will take a ballet class listening to Nutcracker music and will learn all about the Nutcracker ballet reading the story book and coloring pages. They will make their own Nutcracker inspired tutu, crown, and wand. Miss Molly will transform them into Baby Sugar Plums, Baby Mice, Soldiers, Party Guests, Candy Canes, Ginger Snaps, and Angels. Children will get a special behind the scenes tour of our very own Nutcracker costume room and get to see the beautiful costumes that are used for our production close up.
This camp will also feature a tap class to Babes in Toyland music. Tappers will make their own toy soldier hats and special red, white, and blue toy soldier tutus and will be ready to impress their parents for a special holiday tap performance on the last day. Our camp will conclude with a hot chocolate and holiday cookie party for both our campers and their parents putting everyone in the mood for the upcoming holiday season.
---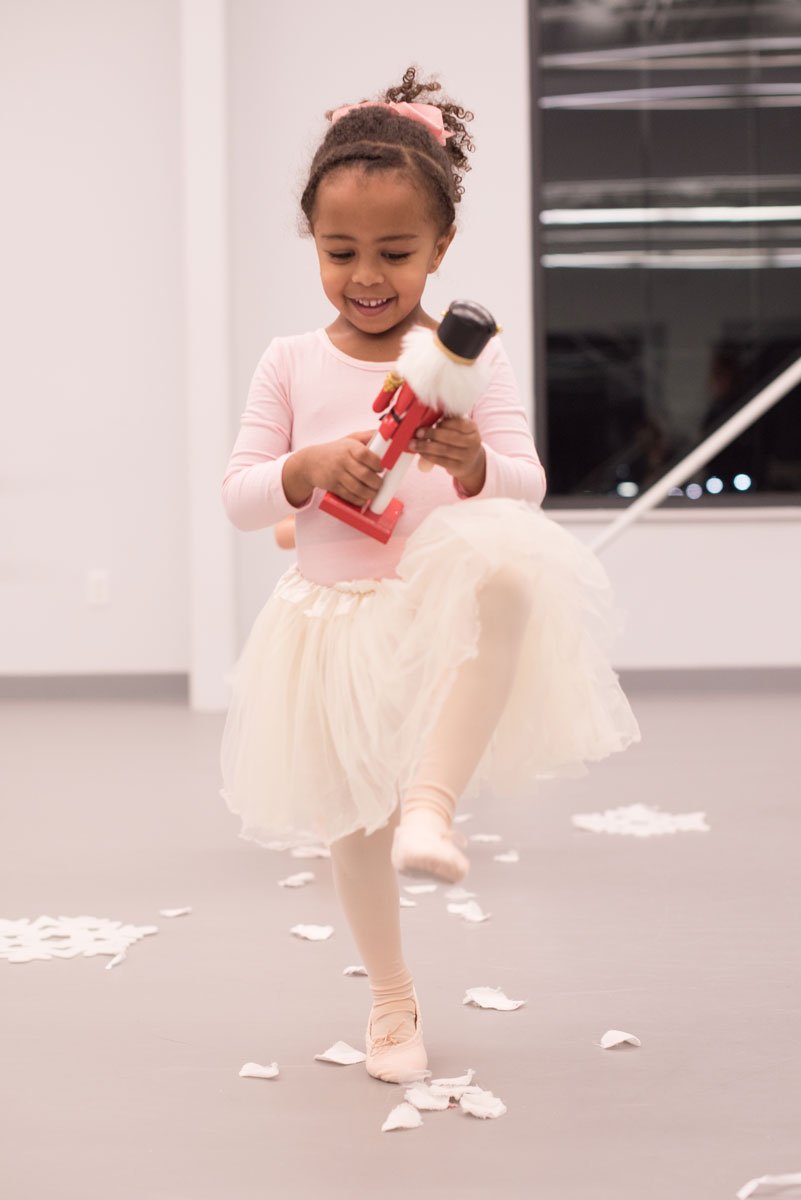 All camps will be held in our large studio which is just over 22,000 square feet allowing us to spread out the campers throughout their time in camp. Parents will be permitted to remain in the studio's lobby or may drop their child off and pick up. Our faculty has been very diligent on keeping the children spaced out, disinfecting their hands, props, and dance area, and keeping our summer campers safe and healthy!